My Values: Trust. Dignity. Respect. Integrity. Commitment.

I help public service leaders align themselves by discovering who they want to be, assessing who they are, and then setting and achieving goals that realize their most fulfilling visions of the future.

I believe that leaders are made, not born and that each of us already possesses inherent abilities that allow us to serve as transformational leaders. Our personal values guide us in our leadership journeys, and the discovery, refinement and practice of our skills allow us to lead authentically as our best selves. This authentic leadership is driven by our trust in those we lead, inspiring them to trust us in return.

Mark is the President & Founder of J. Allen Leadership Solutions, and is an expert in leadership and organizational development with nearly 30 years of experience as a senior military officer, senior state cabinet-level executive, and university faculty member. A university-trained and credentialed executive and leadership coach with decades of practical leadership experience, Mark has developed countless leaders and teams to achieve better results throughout his professional life. He holds a Masters of Strategic Studies from the U.S. Army War College, and is also a graduate of the Duquesne University Professional Coach Certification Program. Mark is credentialed through the International Coach Federation as an Associate Certified Coach and coaches all levels of leaders, from emerging to senior executive.
Mark also serves as a Senior Executive in Residence and the Principal Leadership Coach at the Ohio University Voinovich School of Leadership and Public Service's Academy for Excellence in Public Service. He continues to invest in the future by teaching leadership and management courses for undergraduates and working professionals at the Voinovich Academy and Franklin University's Management and Leadership Program. Mark is also a featured author for The Ohio State University Fisher College of Business' Fisher Leader Initiative Lead Read Today publication and the Ohio University Voinovich Academy's Leadership Moments blog.
Mark holds the Birkman Method, Hogan Assessment and PROSCI Change Management Certifications. He is qualified to administer the Birkman Signature, Hogan Insight Series, and Gallup CliftonStrengths assessments, as well as a number of other leadership development tools.




Member, International Coach Federation

Mark is a credentialed member of the International Coach Federation, the only globally recognized, independent credentialing program for coach practitioners. ICF Credentials are awarded to professional coaches who have met stringent education and experience requirements and have demonstrated a thorough understanding of the coaching competencies that set the standard in the profession. Achieving credentials through ICF signifies a coach's commitment to integrity, understanding and mastery of coaching skills, and dedication to clients.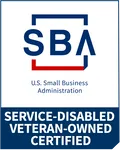 Service Disabled Veteran Owned Small Business J. Allen Leadership Solutions, LLC is a Service Disabled Veteran Owned Small Business. We are eligible to pursue and participate in federal contract opportunities within the System for Award Management.
SAM UEI: LHQDCUQ9GDC5